Friday & Saturday, 6th / 7th April 2018
Movement & Skills Acquisition Conference @ Cork Institute of Technology

A big 'thank you' to Dr Edward Coughlan and his team for his surprise invitation for us at Anamo to attend his Movement & Skills Acquisition Ireland Conference at the Melbourne Centre, Cork Institute of Technology, Bishopstown, Cork, Ireland.
A really impressive list of speakers will present at this sold out event. These will include Prof. Keith Davids; Richard Shuttleworth; Dr Zoe Wimshurst; Mark O'Sullivan and Dr Nick Winkelmn.

---
Monday 12, March 2018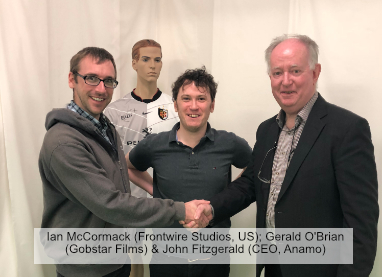 AnamoMAL (motion analysis lab) Cork, Ireland.
Ian McCormack, Frontwire Studios, US, motion capture SME - subject matter expert, came to visit Anamo Prometrics lab at the Marina Business Park in Cork yesterday. Ian's skillset includes system calibration, data processing and motion editing and he has worked with many of the leading marker based motion capture systems including Vicon, XSens, Rokoko and Perception Neuron mocap systems.
We were particularly please to get Ian's reaction to our work with children who have cerebral palsy using AnamoCGA™ - our markerless motioin capture SaaS.
"I was really impressed with your system. It seemed like a system that is also ideal for younger children. I've tried doing motion capture with a traditional system on kids and setting it up and calibrating was impossible. They just don't have the attention span."
"Really good to meet with you Ian. I hope that you and your family have a good time during your visit to Ireland. Travel safely." John Fitzgerald, CEO Anamo Prometrics Ltd.
---
Tuesday, 21st March 2017
Ireland Connect 2017
We will be embarking on a nation wide tour of Ireland to showcase the potential of this new technology to professionals in the areas of sports medicine, sports science and digital media. The portability of our system will ensure that we will be able to visit many locations including Thurles, Kilkenny, Dublin, Belfast and Derry. We will provide further updates on this closer to the launch.
---
Thursday / Friday, 23rd/24th February 2017
EI Funded Validation Study - CAPPA Institute & Biomedical Engineering Dept at the Cork Institute of Technology, Cork, Ireland.
As part of Anamo's Build programme for 2017, we are pleased that Dr Nils Hasler of The Captury (Germany) has agreed to travel to Ireland to facilitate our motion capture 'validation studies' at the CIT - Cork Institute of Technology.
| | | | |
| --- | --- | --- | --- |
| | | | |
| Dr Nils Hasler (D) | Dr Liam Lewis | Dr Dave Goulding | Dr Keith Bryan |

The purpose of this validation study was to compare our Anamo, Markerless motion capture system with the 'gold standard' marker based Vicon motion capture system. We are currently analysing the results of this study and will publish our results in the near future. Our initial impressions are very promising.
On the day, we were very pleased to welcome RTE who were filming our validation day as part of an upcoming documentary into emerging technologies that are designed to improve athletes performance in their sporting field.
---
10th November 2016
Anamo Prometrics Ltd opened on 10th November 2016 its Mo-Cap Lab at the Marina Commercial Park, Cork, Ireland.
Presently the Lab is very busy with research and development projects which are examining the potential causes of dysfunctional human motion that leads to injury.
---